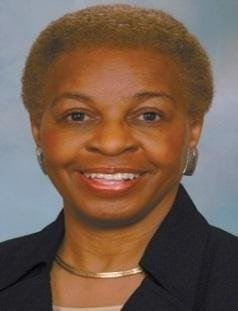 Jackie Johnson is a key community figure in Rochester, Minnesota. Ms. Johnson holds a master's degree in social work and has held several positions at Mayo Clinic in Rochester, including a Liver Transplant Social Worker, Minority Student Advisor for the Department of Education, Program Director for the Medical Social Services Graduate Student Residency Program and Director of the REACH Mayo Medical School Student Service Learning Program. She also served two terms as president of the North American Association of Liver Transplant Social Workers and, following her nomination by the Chief Surgeon of Mayo's Transplant Center, served on the Board of Directors for the United Network for Organ Sharing in Richmond, Virginia. Other professional appointments include the MN Board of Social Work by the Governor of MN and the National Association of Social Work Boards Regulation and Standards Committee.
Jackie has also served in the Rochester community as President of the Rochester Branch NAACP, Vice President of MN-Dakota NAACP State Conference of Branches, Salvation Army Advisor Board Member, Rochester School Integration Committee, Rochester School District Boundary Committee, Mayor's Community Response Team against Hate Crimes, and City of Rochester Charter Commission.
Jackie has been honored as a "Black History Maker" for the city of Rochester by the Mayo Clinic African Descendants Support Network and as with the Outstanding Woman of Color Award from the state of MN. She was also awarded with an award for Outstanding Community Service by the Rochester Branch NAACP.
An active member of her church, Jackie has served as chair of the Elder Board, Sunday School Superintendent, Director of Youth Programs, and Finance Committee member. Her most treasured reward continues to be visiting with her three adult children.